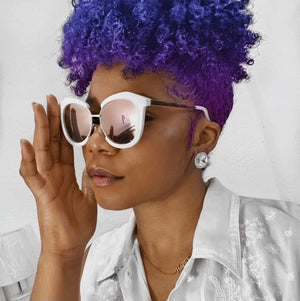 Spectre by Ems
---
The spectre by ems sunglasses collection. An absolute must have! Throw on these sunnies and live the look. This rhinestone design gives off serious paparazzi blocker vibes. Have your superstar moment with the frameless aviator style retro glasses. Pick from our UV400 polarized sunglasses collection. An everyday eyewear you'd never wanna loose .
These stunning sunglasses sets with its rimless transparent  polarized lens. is such a catch. It comes with a protective case and a microfibre cleaning cloth and as a result, your glasses is always clean and fresh.
These retro sunglasses are distinguished by its innovative use of new and unexpected materials. It's varying style of inspiration complements it's performance. The Spectre by ems sunglass collection is an elegantly designed line of distinctive eyewear. These are available in unisex designs for those who choose to express their strength, confidence, and uniqueness through a bold and distinctive personal style.
Free Beauty Blenders & 2 Mini Marble Brushes With All Makeup Orders
Moses Nyako
London

Train Guard
Spectre Retro1 Sunglasses

These are my go to sunglasses! Love it! I wear them most days as seen in the picture!
Patrick Ea - Ofori
El - Paso
Texas

Ibi brutaaaallll - pidgin for "overly amazing"! Wifee feel sah - pidgin for " my wife is in love with them". I love them is an understatement. My wife was literally overjoyed! My new fragrance store for life!
We accept major pay methods