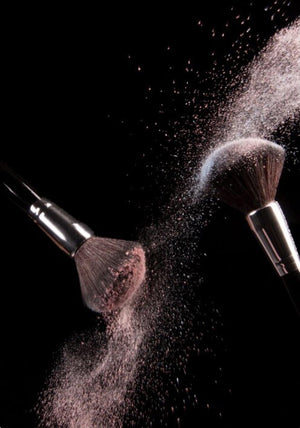 Makeup Accessories
---
A selection of black art mini makeup bags. Choose your queen, be it sassy or a barbie! Just know you rock! Our animated  Cosmetic Bag is the super stylish way to keep your makeup safe. This coloured makeup bag with cute glamorous lady designs is perfect to keep toiletries, foundation, eyeshadow and beyond everyday- or to travel with. The perfect gift for a Friend TV Show fan! Every woman's must have. Grab one because you rock.
Wave buh-bye to unhygienic brushes. The A&S Afrique makeup brush is an absolute game changer with our XXpert brushes. This featuring our high-quality vegan bristles coated with a protective complex helps to fight bacteria growth as a result.


Level-up your artistry with brushes that do the work for you. Cute 'n functional, these fluted handled brushes in our signature 'suede' cloth are a makeup bag must have.
We boast of very fine soft brushes made to standard quality so all brushes are animal cruelty free. 
Have you tried our precision artist waterproof Professional Eye liner Perfection pen? The professional combination in one easy to use product. Our waterproof eyeliner pen!

'Line' with our super intense and smooth pen with the super precise, and super intense Felt liner. Use separately for any look for added definition. Black.

Try our waterproof liquid eyeliner pen to give you that banging smudge free wing! This product receives the most reviews and is every MUA's go to! 
Free Beauty Blenders & 2 Mini Marble Brushes With All Makeup Orders
Moses Nyako
London

Train Guard
Spectre Retro1 Sunglasses

These are my go to sunglasses! Love it! I wear them most days as seen in the picture!
Patrick Ea - Ofori
El - Paso
Texas

Ibi brutaaaallll - pidgin for "overly amazing"! Wifee feel sah - pidgin for " my wife is in love with them". I love them is an understatement. My wife was literally overjoyed! My new fragrance store for life!
We accept major pay methods