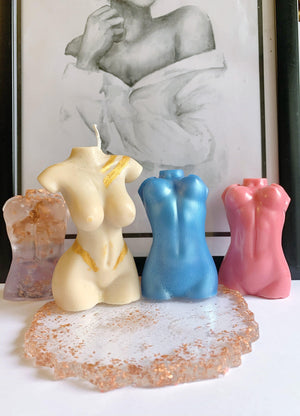 Resin Art Pieces
---
A resin collection of coasters, keyrings and goddesses made from epoxy resin.The decor we all need in our homes. All handmade with love.  Beautiful design with flowers, metallic and clear tinted foils. Perfect addition to your home decor and perfect gift.
Choose your desired goddess, coaster or keychain. Then choose the colour and design you want. Finally, enjoy your very own custom made resin art piece.

Every piece will be unique to you. We ensure no two will ever be the same and as a result, this makes the perfect gift or stocking filler for Christmas!

Features REAL pressed flowers cast in high quality, crystal clear resin. Comes with a design ready to add to your home decor collections, etc!

Every art peiece will come with its own little gift box.

**Please be aware that because every keychain will be different, colours may vary slightly due to the natural colour differences in flowers.**

Add a message with your order if you would like any specific colour variation! I'm always more than happy to assist achieving the perfect art piece for you!
Free Beauty Blenders & 2 Mini Marble Brushes With All Makeup Orders
Moses Nyako
London

Train Guard
Spectre Retro1 Sunglasses

These are my go to sunglasses! Love it! I wear them most days as seen in the picture!
Patrick Ea - Ofori
El - Paso
Texas

Ibi brutaaaallll - pidgin for "overly amazing"! Wifee feel sah - pidgin for " my wife is in love with them". I love them is an understatement. My wife was literally overjoyed! My new fragrance store for life!
We accept major pay methods